The resumption of currency purchases by the Ministry of Finance in 2022 may shift the ruble to 70 rubles / $ 1 – Solid Broker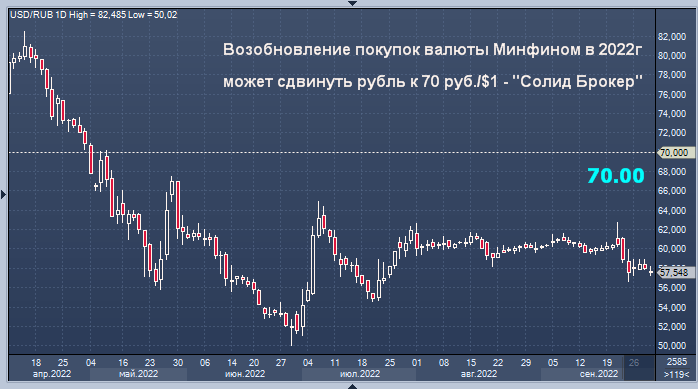 Dollar / ruble exchange rate on the Moscow Exchange at intervals of 1 minute
Dollar / ruble exchange rate on Forex at intervals of 4 hours
The Ministry of Finance allows the resumption of purchases of foreign currency within the framework of the budget rule already this year, Finance Minister Anton Siluanov said yesterday. When asked what kind of currency is now regarded as "friendly" – after all, Russia is going to buy them – the minister unequivocally answered: the yuan.
---
"You need to understand that with the introduction of partial mobilization, the state's need to finance defense spending increases sharply, which leads to a budget deficit. For this replenishment, measures have already been taken to increase the mineral extraction tax for Gazprom, but they are unlikely to be enough. Necessity There has been a weakening course for a long time, but now it has only intensified.

As for the interventions themselves, the current volume of trading in yuan (the second after the dollar) on the Moscow Exchange is already suitable for this procedure. The interventions themselves are likely to be small, due to the corrected oil prices, but they are capable of shifting the exchange rate to at least 70 rubles/$1. Therefore, we are waiting for the resumption of currency purchases as soon as possible," Solid Broker experts write.